Description
Tesfa is registered trademark with the U.S. Patent and Trademark Office (USPTO). Assigned serial number '97500101' FILING BASIS SECTION 1(a). FIRST USE IN COMMERCE DATE as early as October 1997. Registration of the trademark/service mark identified above in the United States Patent and Trademark Office on the Principal Register established by the Act of July 5, 1946 (15 U.S.C. Section 1051 et seq.), as amended, for the following:
International Class 042: Computer software design, computer programming, and maintenance of computer software; Computer software development; Cybersecurity services in the nature of restricting unauthorized access to computer systems; Technology specification, namely, analyzing technology requirements and developing recommendations for the computer software and systems and other technology needed to meet those requirements, in the field of IT; Website design and development for others; Computer technology consultancy; Computer technology support services, namely, help desk services; Creating and designing website based indexes of information for others using information technology; Information technology consulting services; Outsource service providers in the field of information technology; Providing a web site featuring technology that enables users to web page; Providing information relating to computer technology via a website; Technical consulting in the field of artificial intelligence (AI) software customization; Technological consultancy services in the field of search engine optimization; Technology consultation in the field of cybersecurity.
International Class 035: Accounting services; Human resources consultation; Market research; News clipping services; Search engine optimization for promoting the websites of others; Business analysis and business strategic planning services in the technology industry; Providing consumer product information for the purpose of selecting artificial intelligence (AI) hardware and software to meet the consumer's specifications; Providing information and news in the field of business; Providing information in the area of global sustainable business solutions.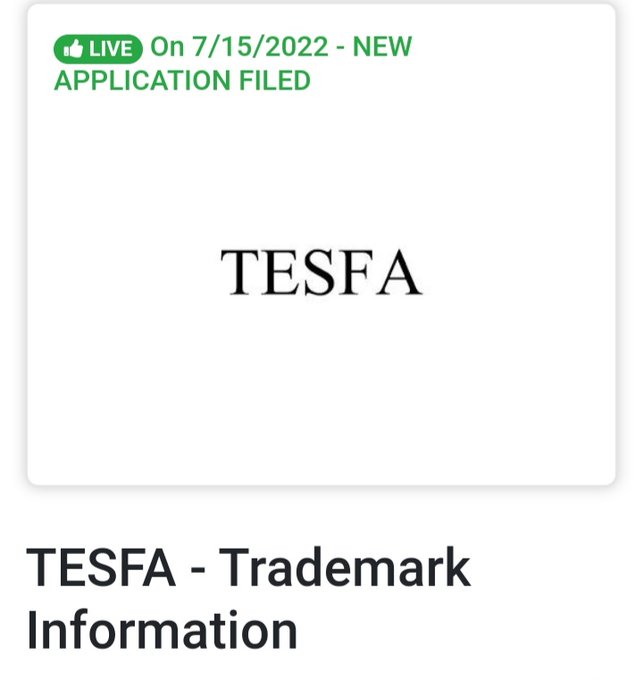 Tesfa corporation is registered with the state of California.